Posted By
New Hope Ministries
Adams County Giving Spree!
Adams County's Day of Giving!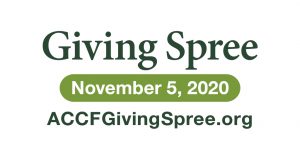 New Hope Ministries is excited to be a part of the Adams County Giving Spree! The 2020 Giving Spree is set for November 5, 2020.
This year the event will be virtual and over 90 nonprofits and charitable funds are part of the 2020 Giving Spree – including New Hope!
Here's how to participate:
Donors can mail-in their gifts with a completed Donation Form directly to the Adams County Community Foundation to be received by November 5, 2020;
Enjoy 24 hour access to the online giving platform from 12:01 am to 12 midnight on November 5, 2020;
Or drop-off your gifts and completed Donation Form at the Giving Spree drive through located at the Gettysburg Area High School parking lot from 1pm to 5pm on November 5, 2020 for that personal connection! (Masks must be worn and drive-through only).
New this year:
Donors have the option to make a lasting impact by directing their gift to a designated endowment held at the Community Foundation for any participating nonprofit.
The Adams County Community Foundation is offering Donor Information Sessions every Friday from September 11 – October 30 at 1pm to help donors understand how they can support the nonprofits and causes they care about. On each call donors can hear a brief overview of this year's Giving Spree and ask questions. Join us by phone at 1pm sharp! We will finish early if there are few questions. We will repeat this call weekly through October. Simply call (605) 472-5617 and enter Access code: 108495#